Demonstrated 100% Approval Rate. Fast Response with Expert Support.
No Annual Fees. Interactive Digital PDF Copies for EFB, & iPad.
Recent Programs: Gulfstream 150, Dassault Falcon 2000S, Challenger 350, Learjet 60XR, RVSM, SAO Airspace Worldwide and MEL programs. - posted on 06/30/2016
Recent Programs: G450, G150, & Challenger 350 RVSM & SAO Airspace Worldwide, G-III & CE-560 RVSM, DA-900EX Serialized MEL 14 CFR 91 - posted on 06/14/2016
Recent Programs: Piaggio Avanti II MEL, Global 6000 RVSM, Oceanic & International Ops, Falcon 50 & Pilatus PC-12 Oceanic & International Ops - posted on 05/12/2016
Recent Programs: Global 6000 CPDLC & ADS-C, Piaggio Avanti II, RVSM & SAO Airspace, MEL, G100 RVSM & MEL, BE-400A RVSM, CL-605 MEL - posted on 04/02/2016
IBAC recognizes SourceOne Aviation Compliance as an International Standards Support Services Affiliate (ISSSA) for the IS-BAO program. - posted on 03/18/2016
"SourceOne Aviation Compliance is responsible for our RVSM, ADS-B, CPDLC, Oceanic, International, MEL manuals and assisting us in receiving our FAA Letters of Authorization. The knowledge and experience that SourceOne Aviation Compliance demonstrates has been invaluable when it comes to meeting our compliance objectives quickly with our local FSDO. What we really appreciate most is SourceOne Aviation Compliance's ability adapt to the needs of our operation and craft the final product based on our operation."
Scott McIntosh
About Our Manuals
Option to Go Paperless. Replace 40 pounds of paper manuals with a 1 pound tablet. We offer Digital PDF Manuals for the FAA approved EFB, iPad and MS Tablet with a page-linked interactive table of contents as well as ultra-high quality color bound copies. Operations conducted under 14 CFR 91 do not require an LOA for EFB. Operators flying large, turbine multi-engine aircraft (FAA Part 91F) must adhere to the EFB testing and documentation requirements listed in FAA Advisory Circular 120-76C, but DO NOT require FAA approval before using an EFB as the sole source of charts, our manuals, and aviation data in the cockpit. No Annual Contracts ever.
To date we have a 100% FAA approval rate. We have incorporated years of input and insight from our discussions with various FAA Safety Inspectors, FAA Technicians, and FAA Avionics Inspectors and implemented these recommendations and feedback into all of our manuals. Our Manuals are normally approved and accepted the first time during the initial review. All of our Manuals have been approved and accepted for FAR Part 91 and Part 135 Air Carrier Operations. Our EASA & CAA Programs have also been accepted.
Read More
FAA/ICAO/EASA Authorizations Success Rate

100%

LOAs & OpSpecs types completed for 14 CFR 91 & 135

100%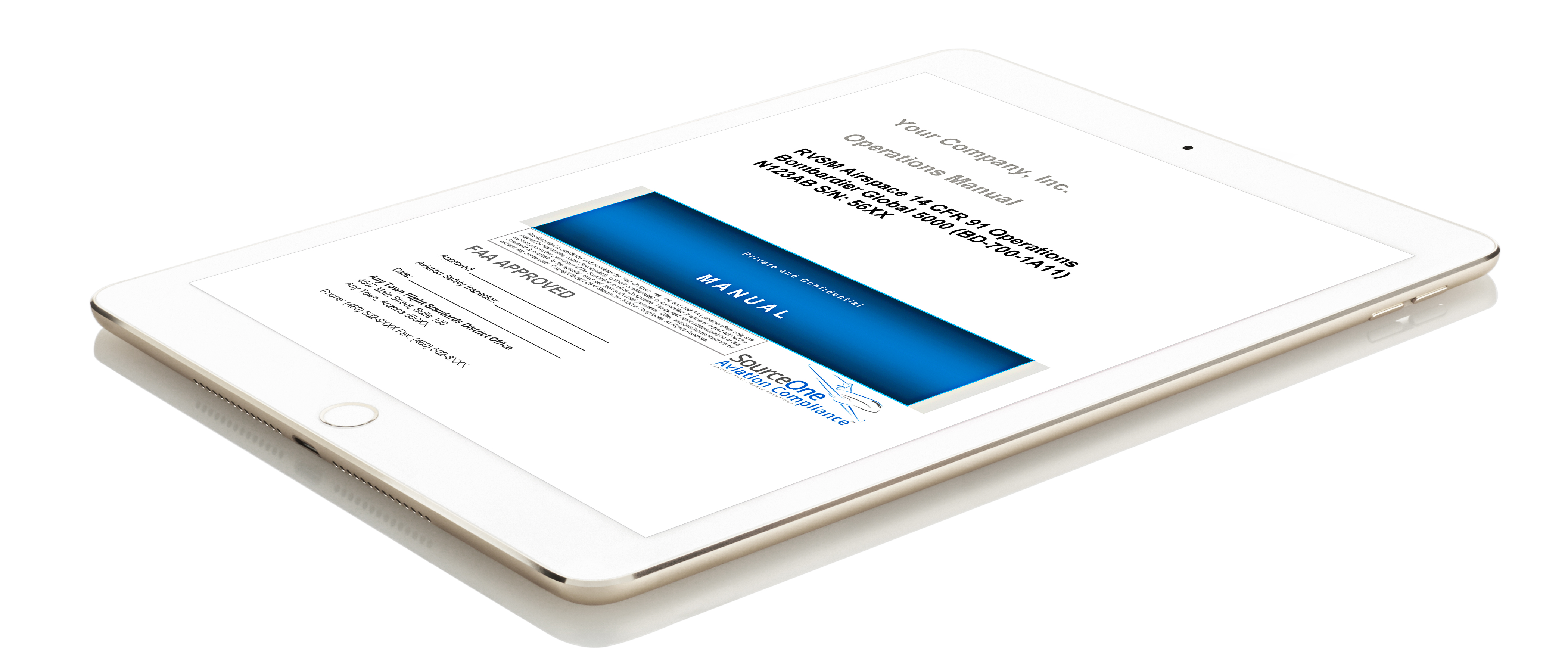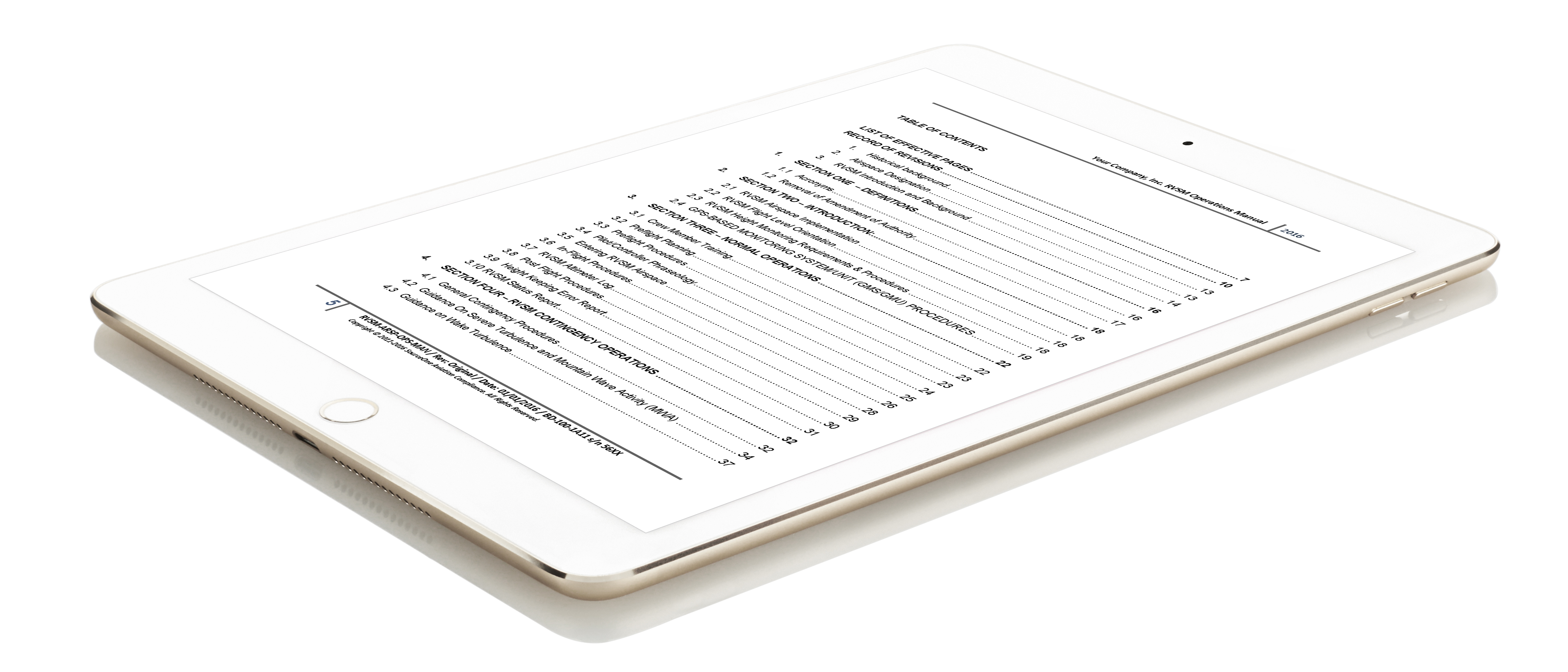 AOG, New Aircraft Purchase, Change of Operator, & Foreign Based N-Registered
Quick turn: our Domestic / Americas RVSM Airspace Program Manual can be completed in 2-3 business days upon receipt of our completed application and FAA supporting documentation. Please see our RVSM Manuals Page for more information. Our RVSM, Oceanic & International Operations Airspace Program Manual can be completed within 3-4 business days with the required supporting documentation. This program includes an Oceanic & International Operations Manual and is cost-effective. Custom solutions for your Flight Department are available and may be more cost-effective if you operate a fleet of aircraft. Our price point for each product is listed for transparency and provide "turn key" solutions.
The process is simple (Client Login is not required):
1. Contact your FSDO or IFO and verify which method:  Electronic Copies or Paper Copies of Manuals is required for submission with the FAA Application: FAA FSDO Directory
2. Proceed to our Application Page and review information, complete, and submit online application.
3. Visit our Purchase page and submit purchase order with payment (CC, Wire, Electronic, or Company Check).
4. Complete and submit supporting documents via email after checklist is received.
For more specific details, please view our Manuals and FAQs pages.
Programs completed for:
Astra Bombardier Cessna Dassault Dornier Eclipse Aviation Embraer Gulfstream Hawker-Beechcraft Learjet Piaggio Pilatus Piper Raytheon Sabreliner Socata – all types
FOREIGN EASA & CAA Approvals:
Asia Canada Europe Mexico Morocco Middle East South Africa South America South East Asia
Multi-Aircraft Programs:
We provide solutions for operators conducting operations with a fleet or multi-aircraft and larger flight departments. These combined programs are modular and are easier to manage resulting in less paperwork and lower costs.
Our Team
We are here to help with your compliance objectives. Nine years ago we set out to create a company that focuses solely on delivering a superior product in form and accuracy of information in the areas of RVSM and SAO (Special Areas of Operation) Airspace, and Flight Operations Manuals. Since 2007, we have provided over 1000 client programs and 1000's of LOAs and OpSpecs with a 100% approval rate for from the FAA, EASA, or Civil Aviation Authority for FAR Part 91 and 135. We work with Aviation Safety Inspectors, FAA Technicians, and Aircraft Manufacturers to constantly improve our Manuals. Background is important and relevant, our several consultants and technical editors on staff are:
Read More
Foreign Registered Aircraft ICAO, EASA, JAA, & CAA Certifications
We offer ICAO, EASA, JAA, and CAA RVSM & SAO Airspace Programs, Aircraft Minimum Equipment Lists (MEL), Oceanic & International Operations Manuals, and ICAO Compliant Operations Manuals with Aviation Safety Management Systems for Foreign Registered Aircraft and have had 100% success with each client's approvals. We provide CAA regulatory specific solutions for foreign-based Clients and their Flight Departments ICAO State DGAC. Please contact us to discuss your program and operational requirements for a custom solution. Our Manuals are written in English.